A lot has happened this week, which means that I have a lot on my mind. To help organize all my thoughts and activities, I'm joining the Barks and Bytes Blog Hop for the very first time!
In case you weren't aware the Super Bowl is this weekend!
I enjoy watching the Super Bowl because I can justify eating delicious snacks for several hours straight. Plus, it is the one time of year where I actually enjoy watching commercials! Well normally. I'm sure you have already heard about the disastrous GoDaddy commercial, but in case you missed it you can read my thoughts on why it was just not okay.
Don't forget to include your dog in Super Bowl plans. If you'll be having people over make sure you are planning a pet friendly shindig that is both fun and safe for your pets!
If you will be watching the big game, the Puppy Bowl, or really anything else this weekend, I've got a recipe for a healthy snack that BOTH you and your dog can enjoy. Sweet Potato Chips are super easy and delicious to make!
Valentine's Day is just TWO WEEKS away!
That means I've been crafting up a storm. Throwing red and pink glitter everywhere. All so I can share a few festive decorating ideas for pet lovers!
Here is a sneak peek of a DIY project that I'll be sharing tomorrow:
Get your BlogPaws Nose-to-Nose Award nominations in!
BlogPaws is a community of pet bloggers like me and every year they host a conference complete with an awards ceremony to recognize the some of best pet bloggers during the year. This year's conference is in Nashville, so Luna and I will be making a road trip there in late May.
The Nose-to-Nose Award nominations are open right now! But only for just a few days longer (through 1/31/15), so if you haven't nominated your favorite pet bloggers you better do it quick!
This year's categories include:
Best Pet Blog Design
Best Written Pet Blog Post
Best Pet Humor Blog
Best Dog Blog
Best Cat Blog
Best Unconventional Pet Blog
Best New Pet Blog
Best Cause Blog for or about pets
Best Pet Video on a Blog
Best Pet Photo on a Blog
Best Pet Microblog
Best Use of Social Media by a 501c3
Luna and I would be honored if you considered nominating us or any other pet blog that makes you laugh, smile, or think for a Nose-to-Nose award! It is very easy to submit a nomination, but you will need a bit of contact information first.
BEAGLES AND BARGAINS' CONTACT INFO:
Name: Jessica Shipman
Email: jessica@beaglesandbargains.com
Direct URL to Blog: http://www.beaglesandbargains.com
Facebook: https://www.facebook.com/beaglesandbargains
Twitter: https://twitter.com/beaglesbargains
BlogPaws Profile: http://community.blogpaws.com/profile/BeaglesandBargains
Some of my favorite blog posts include:
10 Questions About Senior Pets
Celebrating the Super Bowl Safely
Camping with Dogs for Beginners
Wondering What If…
Thank You Notes
How I Survived Showering with a Cockroach and Stayed Pet Friendly
Adopt a Shelter Dog Month – Luna's Story
Is Lavender Safe for Dogs?
I Need a Break From My Dog
Apartment Living – Preparing for Emergencies
15 Ways To Tell Your Dog She Is Getting Fat
Why I Stood Up Against GoDaddy's Super Bowl Commercial
Some of my favorite photos can be found in these posts:
Just in Time for Spring
How to Survive a Business Trip Without Your Dog
Camping with Dogs for Beginners
Where Have We Been?
Thank You Notes
Pet Friendly Hiking in Northern Virginia
A Glimpse of a Beagles and Bargains Holiday
Any 52 Snapshots of Life post
Winter weather is coming!
We got a bit of snow Monday and Tuesday from the blizzard that hit the east coast. Although we didn't get nearly anywhere close to the amount of snow as Boston and other areas in the north east, it was nice to see a bit of snow. We might get a little bit more tonight too. Do you have snow near you?
See more pictures of our WINTER adventure this weekend in this week's 52 Snapshots of Life post!
What have you done this week?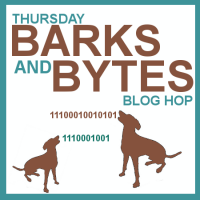 This post is part of the Thursday Barks and Bytes Blog Hop hosted by Heart Like A Dog and 2 Brown Dawgs. Take a look at other Blog Hop posts by clicking below! Happy Hopping!
[ad name="BlogPostBottom"]
Latest posts by Jessica Shipman
(see all)